Rev. Teri Peterson
PCOP
we thought…
Luke 24.13-35, 1 Corinthians 1.18-31
21 July 2013, Singing Faith 7 (a series where people submitted their favorite hymns and I preach on themes/images/texts/theology of those hymns)
hymns:
Were You There
The Old Rugged Cross
Glory to God, Whose Goodness Shines on Me
illumination: Open My Eyes
Ah, Holy Jesus
I Danced in the Morning
Now on that same day two of them were going to a village called Emmaus, about seven miles from Jerusalem, and talking with each other about all these things that had happened. While they were talking and discussing, Jesus himself came near and went with them, but their eyes were kept from recognizing him. And he said to them, 'What are you discussing with each other while you walk along?' They stood still, looking sad. Then one of them, whose name was Cleopas, answered him, 'Are you the only stranger in Jerusalem who does not know the things that have taken place there in these days?' He asked them, 'What things?' They replied, 'The things about Jesus of Nazareth, who was a prophet mighty in deed and word before God and all the people, and how our chief priests and leaders handed him over to be condemned to death and crucified him. But we had hoped that he was the one to redeem Israel. Yes, and besides all this, it is now the third day since these things took place. Moreover, some women of our group astounded us. They were at the tomb early this morning, and when they did not find his body there, they came back and told us that they had indeed seen a vision of angels who said that he was alive. Some of those who were with us went to the tomb and found it just as the women had said; but they did not see him.' Then he said to them, 'Oh, how foolish you are, and how slow of heart to believe all that the prophets have declared! Was it not necessary that the Messiah should suffer these things and then enter into his glory?' Then beginning with Moses and all the prophets, he interpreted to them the things about himself in all the scriptures.
As they came near the village to which they were going, he walked ahead as if he were going on. But they urged him strongly, saying, 'Stay with us, because it is almost evening and the day is now nearly over.' So he went in to stay with them. When he was at the table with them, he took bread, blessed and broke it, and gave it to them. Then their eyes were opened, and they recognized him; and he vanished from their sight. They said to each other, 'Were not our hearts burning within us while he was talking to us on the road, while he was opening the scriptures to us?' That same hour they got up and returned to Jerusalem; and they found the eleven and their companions gathered together. They were saying, 'The Lord has risen indeed, and he has appeared to Simon!' Then they told what had happened on the road, and how he had been made known to them in the breaking of the bread.
For the message about the cross is foolishness to those who are perishing, but to us who are being saved it is the power of God. For it is written,
'I will destroy the wisdom of the wise,
 and the discernment of the discerning I will thwart.' 
Where is the one who is wise? Where is the scribe? Where is the debater of this age? Has not God made foolish the wisdom of the world? For since, in the wisdom of God, the world did not know God through wisdom, God decided, through the foolishness of our proclamation, to save those who believe. For Jews demand signs and Greeks desire wisdom, but we proclaim Christ crucified, a stumbling-block to Jews and foolishness to Gentiles, but to those who are the called, both Jews and Greeks, Christ the power of God and the wisdom of God. For God's foolishness is wiser than human wisdom, and God's weakness is stronger than human strength. Consider your own call, brothers and sisters: not many of you were wise by human standards, not many were powerful, not many were of noble birth. But God chose what is foolish in the world to shame the wise; God chose what is weak in the world to shame the strong; God chose what is low and despised in the world, things that are not, to reduce to nothing things that are, so that no one might boast in the presence of God. He is the source of your life in Christ Jesus, who became for us wisdom from God, and righteousness and sanctification and redemption, in order that, as it is written, 'Let the one who boasts, boast in the Lord.'
~~~~~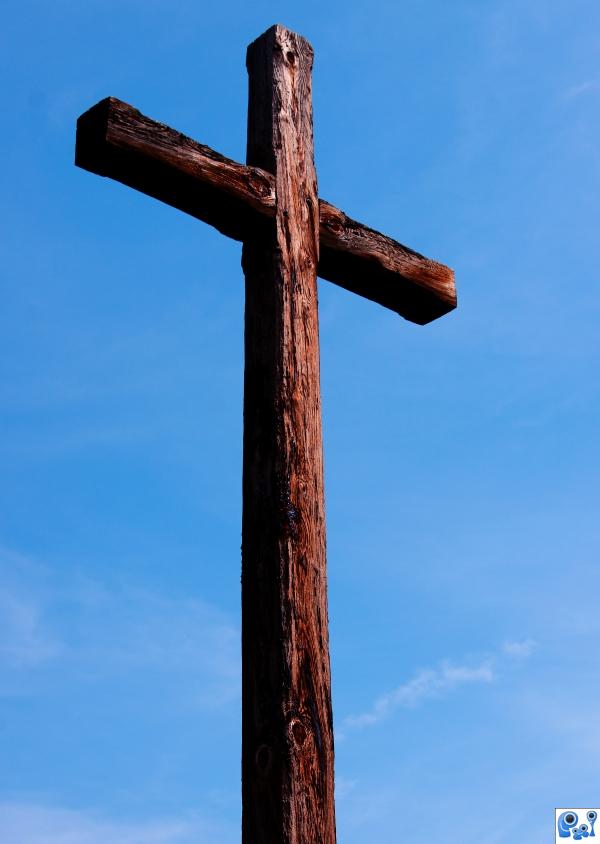 I have a suspicion that if we were to ask random people on the street what they know about what Christians believe, one of the most common answers would be some variation of "Jesus died for my sins." This idea that God sent Jesus for the sole purpose of being tortured and killed in order to pay for my individual sin is a pervasive concept. Even though it leaves out the vast majority of scripture and all of Jesus' life, even though it completely misses the Trinity, and even though it ignores the realities of Jesus' historical context, it's widely believed to be the crux of Christianity.
The thing is, without the historical context, the Trinity, and the rest of scripture and Jesus' life, the cross actually means nothing. Because honestly the Roman empire crucified many thousands of people. It was a punishment reserved for traitors and the most violent of criminals, and those who were crucified were placed on crosses alongside the roads. It could take days for someone to die on a cross, and then their bodies would be left there to decompose or be eaten by animals. The crucified person would then be essentially erased from history—no one would speak of them again, for fear of being associated with such a dangerous criminal outcast. The torture was both of the person's body and their memory.
So when we sing of the shame of the cross, that is what we mean—that there is literally no more horrific and shameful way to die, and to associate ourselves with someone who was crucified is to risk everything—our reputation, our opportunity, even our lives. When we sing of the beauty of the cross, we are singing of something impossible. There is nothing beautiful in this execution of a traitor.
And treason was the crime, death the penalty. Jesus was called the son of God, the Lord of Lords—titles reserved for the emperor. He disrupted the economic system. He fed people who were normally reliant on the empire's bread system, which was carefully regulated to keep the populace docile. He insisted that those on the outside be brought in. He did things that embarrassed the powerful. He welcomed the ethnic minority and the religious outsider. And he insisted, over and over again, that there is only one true power, and it's not money and it's not politics—it's love.
Which, of course, is ridiculous. No way is love more powerful than money or sex or influence or political office.
The disciples who walked away from Jerusalem knew that. They knew how things were supposed to go—the messiah would lead the charge and they would take back their land, their dignity, their lives, with force. He was supposed to redeem Israel by crushing the oppressor and setting up a new Jerusalem. That was how God was supposed to work, that's what was necessary for the salvation of Israel. For it all to end with the shame of a cross was too much. The disciples were the ones who were crushed.
So yes, the message about the cross is foolishness. It is foolish to think that this shame can be beautiful. It is foolish to think there is power in the ultimate weakness. And yet that is exactly what we claim—that God's foolishness is wiser than our wisdom. That our understanding of power is exactly wrong. That what we thought and what we hoped is not what God was doing this whole time.
Arms outstretched, Jesus reveals who, and more importantly, where God is—full of surprises; vulnerable; open; unwilling to let the status quo have the last word; right here, not far off waiting for us to get it right. The ways we understand the world are completely turned upside down by this God who takes the witness stand, showing us all how ridiculous our systems are. We thought that violence could save us. We thought that a bloody death could buy our freedom. We thought that there must be some deeper magic that would be satisfied by the sacrifice of an innocent. We thought God was separate from humanity. And what we got instead was faith, hope, and love poured out into the world. What we got was a snapshot of the flawed thinking in which we all participate. What we got was a story of how our human concept of power blinded us to what God was doing in our midst all along.
We've been those disciples on the road to Emmaus, trying to explain what we thought and what we hoped. Have we also been those disciples who listen to the story Jesus is telling, rather than the story we want him to be telling? We want a nice neat package of dying for our sins so we can go to heaven. But he's telling us a story that's much messier than that—a story of relationship, a story of the church becoming the same faith, hope, and love that God embodied in Jesus, a story of grace that washes away every boundary we have tried to shore up. The story Jesus is telling on that road is one that sounds ridiculous, that can't possibly be true, that will make us look stupid and act stupider. And so we stand on the road saying "but we thought…" and we fill in everything we are supposed to believe—that torture is part of God's plan, that shame is good, that God is bloodthirsty, that love is conditional. But even as our voices trail off, Jesus is breaking bread and inviting us to a whole new way of life, if only we can imagine it.
One author puts it like this: "Our minds are constantly trying to bring God down to our level rather than letting God lift us into levels of which we were not previously capable." (Christian Wiman, My Bright Abyss p. 47) We want so desperately for God to work within our transactional understanding that we can't figure out how Jesus' death on a cross can be about something more than buying our tickets to heaven. But what if God is trying to lift us to a whole new level, not just to baptize the story we're already telling?
Foolishness. Weakness. Empty. Stumbling block. Despised. This is the reality of crucifixion, of Jesus dying for the sin of the world. We were there—not in the sense that our individual pettiness was on the cross, but in the sense that we are part of a world that stands and looks on, finally seeing that the ways we have ordered our society, justice system, economy, and way of life can never offer the abundance of the kingdom of God. We were there, not because Jesus' death somehow pays off God, but because God was there on the cross, choosing to die with us rather than live apart from us. We were there, not because we are individually so bad God couldn't stand it, but because the ways we unthinkingly perpetuate injustice cannot continue. In the cross we see ourselves for what we are: simultaneously beloved and broken. We see the world for what it is: a distorted reality. And we see God most truly: life and love so complete that no one is excluded for any reason, even those who drive in the nails. Once, we knew not what we did. But now we see.
So when we sing of the cross, we remember that it isn't really about me—it's about changing the world into the kingdom of God. It isn't about payment, it's about transformation through God's presence and identification with us, participating in our death in order that we might participate in God's life here and now. It isn't about strength, it's about weakness that gives us a glimpse of true power. It isn't about blood as a symbol of death, but blood as a symbol of life, poured into our hearts through the action and word and love of a God who refuses to stand aside. Will we let this life grow in us, or will we gaze lovingly at one instrument of torture even as thousands die around us? Will we find the kingdom of God within and around us—one of those things Jesus said that got him killed—or will we insist all that stuff is nice but unrealistic, and pursue our own wisdom while we wait to be whisked up into heaven?
Jesus died to usher us into the kingdom of God. If the cross is to mean anything, we must obey the call to God's foolish love. Every time we choose to live by the rules of our own power and understanding, every time we think it's about us and reduce God's action throughout time to one black Friday purchase, every time we confine our faith to five simplistic words even as we continue in the same path that led to Jesus' death, the cross is made to be nothing more than a piece of silver on a chain around our necks. God's power is revealed in weakness, in being the outcast, in the ridiculous, in love beyond all sense of reason or deserving. That is just as true for the body of Christ as it was for Jesus the Christ.
May it be so. Amen.